Team Viewer Support Session (Click HERE)
After you click on the above link you will need to run the file that is downloaded.
Depending on which browser you are using this will be done different.
INTERNET EXPLORER - Click on RUN (may appear at bottom of browser)
FIREFOX - Click "Save File" then after the file is downloaded, double click on it in the "Downloads" box.
CHROME - After it is clicked a box will appear in the lower left hand corner of the browser.
Click on it after it is done downloading
It will launch a box similar to the one shown below.
You will then be asked to provide "Your ID" and "Password" to your CSG Team member.
*Note - Support sessions require that you are working with a CSG Team member prior to starting session.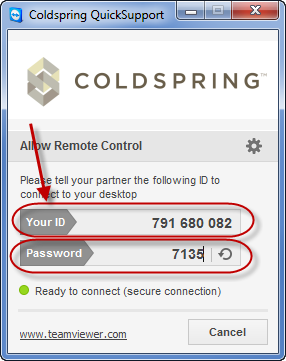 Team Viewer Meeting/Training Session (Click HERE)